Events of EFUCA
European Federation of Associations and Clubs for UNESCO
presents the Anniversary album volume, volume printed in exceptional conditions
FIRST ALBUM of the club movement for UNESCO dedicated to:
75 years of UNESCO
40 years since the establishment of the World Federation of Associations and Clubs for UNESCO;
20 years since the establishment in Busteni, in Romania, of the European Federation of Associations and Clubs for UNESCO
A chapter is also dedicated to the 65 years since Romania signed its entry into this world organization As you know, 2021 was a year rich in UNESCO events, which deserved a solid imprint of time.
This is what we wanted through this volume of the European Federation, which came into contact with partners over time, asking them to send articles, messages for this unique publication in our UNESCO movement.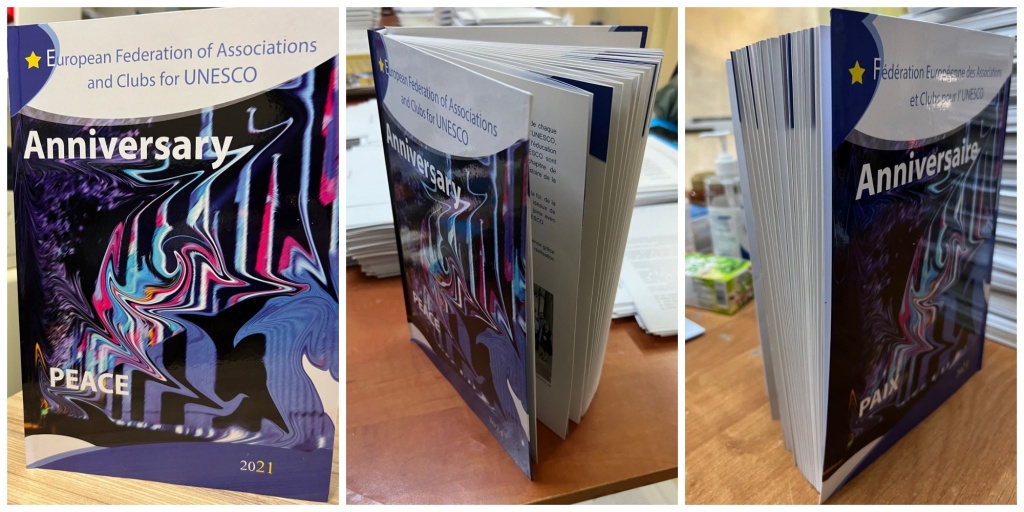 IN VOLUME:
• 264 pages
• over 300 photos
• present, representatives from 23 countries
• over 70 personalities from all over the world: UNESCO officials and former international officials
• diplomats, ambassadors, UNESCO general secretaries, historians, leaders of the UNESCO club movement in the world foreword written by a member of the Romanian Parliament 
This volume has a thorough reflection on the fact that "the defense of peace must be built in the minds of people" and that "peace must be based on the intellectual solidarity of mankind." 
The only word in everyone's hearts at these moments found, and on the cover of the volume, is PEACE!
The volume was presented for the first time at the "Aurel Vlaicu" University of Arad at the Faculty of Theology, which celebrated 200 years of Romanian Orthodox education.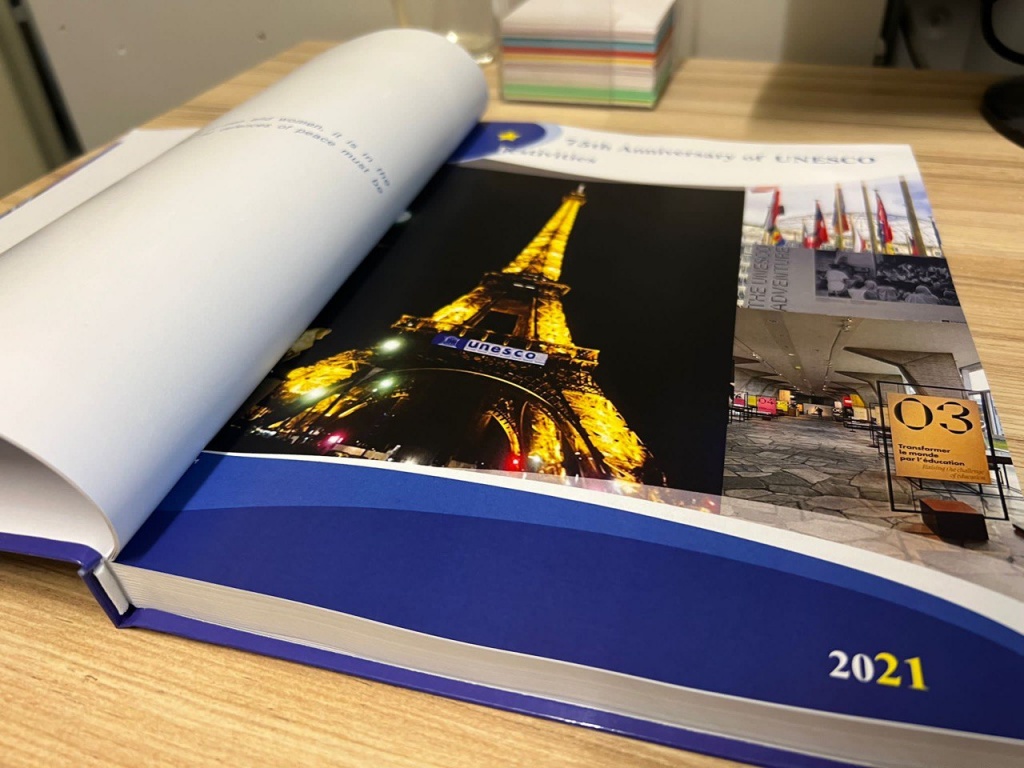 French version:
Fédération européenne des associations et clubs pour l'UNESCO présente le volume de l'album Anniversaire, volume imprimé dans des conditions exceptionnelles 
PREMIER ALBUM du mouvement des clubs pour l'UNESCO consacré à : 
75 ans de l'UNESCO 
40 ans depuis la création de la Fédération mondiale des associations et clubs pour l'UNESCO ; 
20 ans depuis la création à Busteni, en Roumanie, de la Fédération Européenne des Associations et Clubs pour l'UNESCO Un chapitre est également consacré aux 65 ans depuis que la Roumanie a signé son entrée dans cette organisation mondiale Comme vous le savez, 2021 a été une année riche en événements UNESCO, qui méritait une solide empreinte du temps. C'est ce que nous avons voulu à travers ce volume de la Fédération européenne, qui est entrée en contact avec des partenaires au fil du temps, leur demandant d'envoyer des articles, des messages pour cette publication unique dans notre mouvement 
UNESCO.
• présents, 
des représentants de 23 pays
• plus de 70 personnalités du monde entier : fonctionnaires de l'UNESCO et anciens fonctionnaires internationaux
• diplomates, ambassadeurs, secrétaires généraux de l'UNESCO, historiens, dirigeants du mouvement des clubs UNESCO dans le monde
avant-propos écrit par un membre du Parlement roumain
Ce volume a une réflexion approfondie sur le fait que "la défense de la paix doit être construite dans l'esprit des gens" et que "la paix doit être fondée sur la solidarité intellectuelle de l'humanité".
Le seul mot dans le cœur de chacun à ces moments trouvés, et sur la couverture du volume, c'est PAIX.
Le volume a été présenté pour la première fois à l'université "Aurel Vlaicu" d'Arad à la Faculté de théologie, qui a célébré 200 ans d'enseignement orthodoxe roumain.